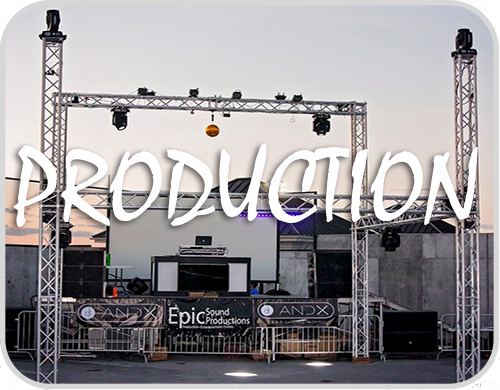 We love to entertain thousands of people and leave them telling their friends. "That was an amazing experience!" Production is key to making the event have that kind of success and we have the resources to make that happen.

We specialize in the following Events:
Concerts

Sporting Events

Conferences

College Events

Fundraisers
We offer:
PA Systems

Light Shows

Staging

Trussing

Special Effects/ Pyrotechnics
Our Staff is comprised of:
Audio Engineer

Lighting Designer

Video Designer

Stage Manager

Crew Service
We have worked production on many shows and been part of numerous tours all over the Northwest and enjoy the variety of talent we get to see and the people we meet from Bands, Musicians, Comedians, Magicians, DJ's, TV Stars, Competitors, Hypnotists, and other Performers. We look forward to seeing familiar faces and enjoy that our work is never "the same old, same old."
While we love to do the big productions, we also do weddings, high school dances (check out our DJ packages here), and can fulfill your Audio/Visual needs.